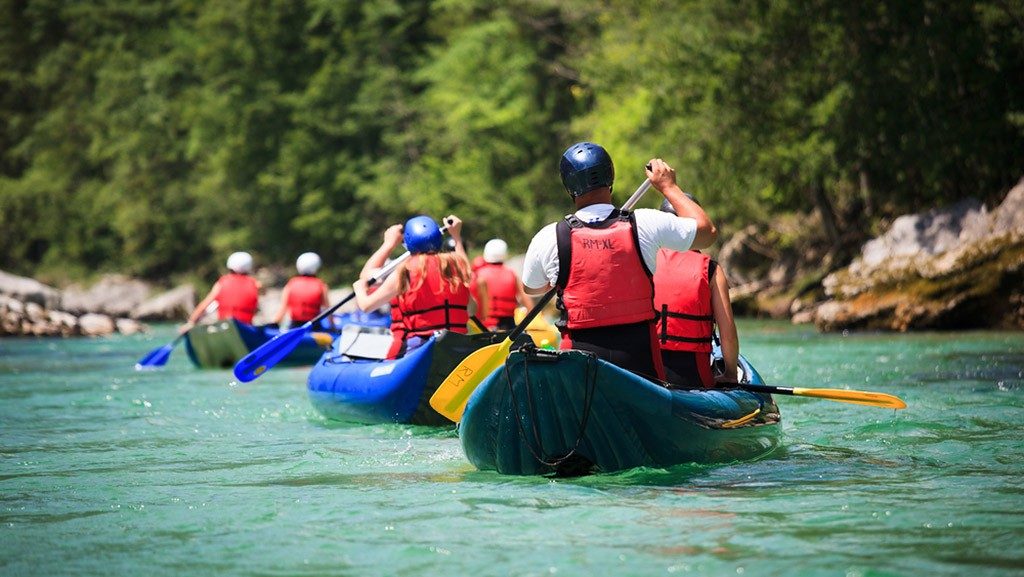 When it comes to finding a destination that offers a perfect mix of adventures and natural beauty, Wayanad is one of the best choices. Offering a delightful assortment of enthralling adventurous activities and an exciting range of tourist attractions, Wayanad always exceeds your expectations. There are many adventures to explore and enjoy here, such as hiking, bike riding, mountain climbing, camping, trekking and river rafting.
Of all these activities, river rafting is one of its own kind experiences here. It is done in the river delta of Kuruva Islands on the traditional Kerala bamboo rafts. The following post offers details on river rafting in Kuruva Islands and the other information related to the same. So, if you are an adventurous person, you must read this post and must enjoy river rafting in Wayanad. Apart from witnessing the surreal beauty of a complex and exotic ecosystem of the river delta, you will be able to enjoy an exhilarating experience with your friends and family.

So, read on, and learn about river rafting in Wayanad.
Kuruva Island – What and Why?
It is one of the most amazing tourist places in Wayanad that spans over 950 acres. This river delta has three major islands that are densely forested. There are many other small islands that are submergible islands. The islands are located on the tributaries of Kabini River.
This island is also called Kuruvadeep Island and is a protected ecosystem. There are many rivers and streams in the area that can be explored via the fibre boats or rafts that are provided by the Kerala Tourism Department.
The Kuruva Islands have many elephants and wild animals. Therefore, the tourists have to obtain a pass from the Department of Forest. The best time for river rafting in Wayanad is from mid-December to late April. The island is closed for the tourists from May to early December. The region experiences heavy rainfalls during this time because of monsoons.
The rafting session can last from one to two hours, depending on your preferences. You will pass from many streams and tributaries of the river during the journey.
The rafting is open from 9 am to 3 pm. Life jackets are provided there, and you can glide over the calm waters without any tension. The lush green forests on all sides with sounds of wildlife will keep you entertained throughout the course of rafting.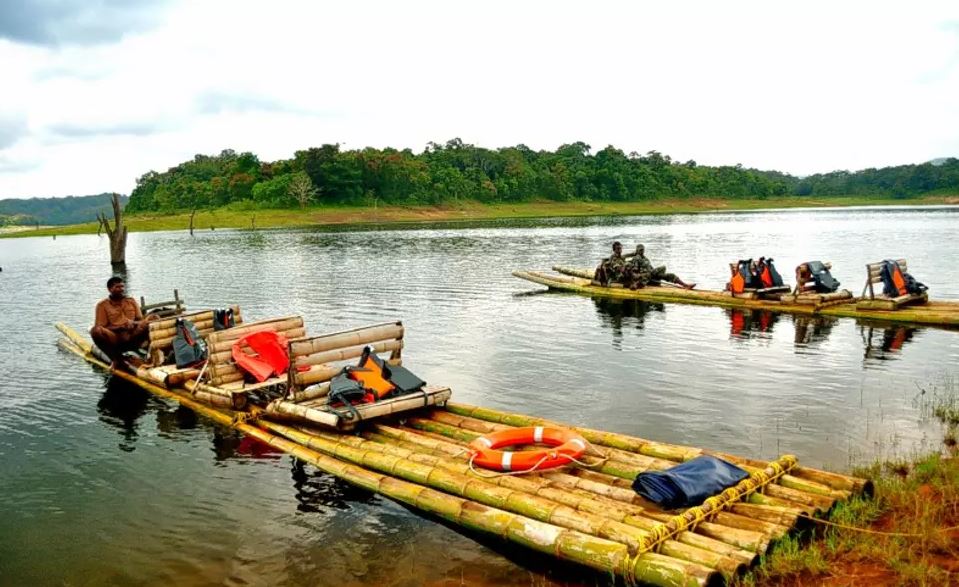 River Rafting in Wayanad – Pozhuthana River
The Pozhuthana River flows through the Pozhuthana Village, which is near Vythiri. It is a small village with lush green surroundings. From valleys carpeted with green grass and wildflowers to streams and rivers nourishing the flora of the region –Pozhuthana Village is a perfect destination for an amazing and exciting day-trip with your friends and family. You can also plan an exciting picnic with your group in the village, where you feel the scenery is as per your choice.

At the very first look, the tourists mistake the Pozhuthana River for a lake as the water flow is very slow. Moreover, there is a check-dam on the river that makes the flow even slower. The river joins river Kabani in due course. This is a safer place for rafting as compared to the Kuruva Islands. So, if you have kids or elderly people in your group, you must enjoy rafting here.

Bamboo rafts can be boarded by five persons at a time, and they are allowed to sit only after wearing life jackets. You must not ignore the safety while rafting, because water is really deep in some places.
However, a lifeguard stays with you at all times during rafting. The gram panchayat issues the rafts that come with low prices. However, there are many other agencies, as well.

River rafting in Wayanad becomes even more exciting at Pozhuthana River. In some places, the water is so shallow that you can actually see the river bed. The water is so clean that you can really drink it. Many tourists like to take a dip in it at the shallow areas and enjoy playing with each other in the waters.
River Rafting in Wayanad – Things to keep in mind:
Plan your bookings in advance; especially during the tourist season, when the rush is on the peak. There is a chance that you might have to return without the rafting.
Though you might feel that bamboo rafting is unsafe, there is nothing like that. You can enjoy rafting in the waters as much as you want. All you have to do is ensure that you listen to the lifeguards and wear your life jackets at all times.
Please don't venture in the forests or disturb the wild animals you encounter during your journey.
The river rafting in Wayanad is going to be one of the sweetest memories of your life. These traditional Kerala bamboo rafts will prove to be an even better carrier than the modern fibre boats. Apart from that, the surrounding scenery will keep you engaged and absorbed to such a degree that you will not even realise the passage of time. Make sure to bring an ID proof as it will be required at the time of rafting.
All the agencies operate under the latest Government Norms. So, always check them before making plans.
So, gear up for an exciting adventure with river rafting in Wayanad.