Wayanad is at a distance of around 270kms from Bangalore. Plan your Wayanad trip from Bangalore in July/August, when the weather is at its best. Rains will have subsided by then, and Wayanad will be at its most beautiful. The rains pump new life into the place; it turns lush green, and the waterfalls and rivulets surge with water. Wayanad is a little paradise on earth, surrounded by misty mountains, and cool, fresh air that promises to infuse new life into everything.
The scenery that unfolds before your eyes is almost hypnotic. The natural beauty of the place is breathtakingly beautiful. It is nature, putting up its best display.
If you are someone who is besotted with nature and the thought of trekking and camping excites you, then all you need is a three-day trip to Wayanad. Wayanad offers excellent opportunities, for those who seek a little adventure.
How to Reach Wayanad
1. By Bus – A wide network of roads provides access to Wayanad from different parts of Kerala as well as Karnataka. Visitors can board KSRTC buses that run up to Kozhikode at frequent intervals from nearby cities like Bangalore, Mysore, Kochi, Chennai and Trivandrum. Buses till Wayanad are also available

It is advisable that you book your bus from Bangalore to Wayanad in advance. KSRTC (Karnataka State Road Transport Corporation), Kerala RTC and private operators offer busses in this route.

2. By Train– Wayanad district is not connected directly by rail. Visitors can take a train till Kozhikode, the nearest railway station to Wayanad. Also, you can get down at Mysore railway station, it is 130 km away from Wayanad. Quite a number of trains to connect Kozhikode with major towns and cities on a regular basis. After getting down at the station, taxis or buses can be boarded to travel to Wayanad.

3. By Air – Calicut International Airport & Kannur International airport located around 100 km away serves as the nearest airports to Wayanad. Also, you can choose Mysore Airport which is 120 km away from Wayanad. Visitors can avail direct or stopover flights from different parts of Kerala as well as the rest of India, depending upon availability. On arrival at the airport, local taxis can be availed to travel till Wayanad.

Let's introduce you to an itinerary that will help you explore Wayanad in 3 days and packs in a lot of thrill and fun –
Important tips
But before we begin, here are a few things that you need to remember –
Organised treks begin in the morning, so be sure to arrive at the appointed time, fresh and well-rested. If you plan to do it on your own, make sure to plan ahead, chart your route and book your stay. Also, remember to carry the following, with you –
Carry a backpack for your items
Carry water (1-2 litres)
A good pair of walking shoes
Raincoat
Torch
Portable chargers for your devices
Money
Medicines
Most organised trekking expeditions comprise of strangers. You will need to build a rapport with them because they will be your buddies for the next three days.
If you take an overnight bus from Bangalore to Kerala, you will arrive in Sulthan Bathery, a small, but, important town. You can freshen up and indulge in a hearty breakfast, before taking another bus ride to Meppadi, the starting point of your actual adventure.

DAY 1
Meppadi is where the journey really begins. Hire a jeep and head towards Thollayiram Kandi.
Thollayiram Kandi gets its name from a privately owned, 900-acre estate, which was once situated within the precincts of the forest. In Malayalam, Thollayiram means nine-hundred, and hence the name. Over the years, the huge property got divided into smaller pieces of land, but the name stuck.
The jeep ride is something out of this world, brace yourself for a ride, over bumps, through curvy and steep stretches of road that cuts through dense forests. This forest area is unspoilt and pristine. It does not get that many tourists, only the adventurous enter this little piece of heaven.
The picturesque view will enthral you – dirt roads, snaking through tea estates and coffee and cardamom plantations, interspersed with dense forests. The scenery gets more beautiful, with each bend, and gives you spectacular panoramic views.
But the best is yet to come. Once at the top, you will step into a world ruled by nature – rivulets of crystal-clear water, bouncing over rocks and pebbles and a bird's eye view of hills in the distance, cloaked in green playing hide and seek with the clouds. Savour the beauty of it all, scramble through the stream or trek along the forest trail before it is time for lunch.
Your adventures continue post lunch, as you explore Elimbilery Hills and revel in the natural beauty, before proceeding to Ambukuthi Hills, to view the sunset, from the sunset viewpoint. This probably will be the highpoint of your day, as the sun dips behind a sea of mountains, and the sky converts into a masterpiece, painted in numerous hues. But this is really a teaser, for the best is yet to come.
Get back to the homestay, for a scrumptious Kerala feast and then set out again for some more excitement. You venture out again into the wilderness, for a trek up the Ambukuthi Hills. It is an exhilarating experience, as you find your way, up, narrow rocky trails, with only the torchlight, to guide you. Though it is a short climb, the thrills it gives are inexplicable. The top of the hill is where the magic begins.
Pitch your tent, sit by a campfire and enjoy the night and the Wayanad trekking and camping experience. Gaze at the stars or just watch the spectacular view of Wayanad, by night.

DAY 2
Get an early morning start, because the next destination on the itinerary is Chembra peak, which is at a distance of around 40 km.
Special permits are needed to trek up the Chembra peak and only a limited number of people are allowed to climb, each day. There is a fee of Rs.750, for a group of 10 people. The trek takes between 2-3 hours to complete. You may take longer if you stop frequently to soak in the beauty and to click photographs.
If you start early, you will return early. You can then grab a bite and head towards Karapuzha Dam which is around 30 km away or the Soochipara Waterfalls that are about 20 km away. Both are scenic locations.

DAY 3
You can choose to go on a cycling adventure, through narrow, winding pathways that cross coffee plantations, tea estates and verdant forests or visit the Edakkal caves.
A visit to Wayanad is incomplete without a visit to Edakkal caves. The caves are famous because of the pre-historic drawings and etchings on the cave walls. It is a piece of history, over 7000 years old.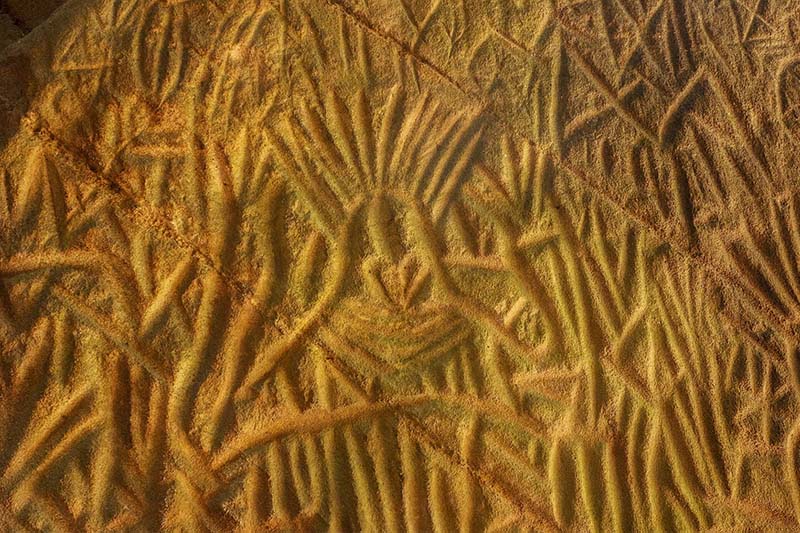 These are just a few things for you to do in Wayanad. You could also go on a jungle safari that takes you deep into the jungles. Or you could just chill and get yourself pampered at an ayurvedic spa.